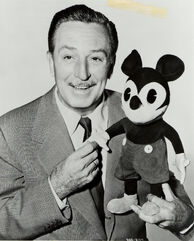 "Our dreams can come true." 
- Walt Disney 
Walter "Walt" Elias Disney (December 5 1901 - December 13 1966) was an American filmmaker and buisnessman. He founded "Walt Disney Productions" and created "Snow White and The Seven Dwarfs " and beloved charachters like Mickey Mouse, Donald Duck and Goofy. Furthermore, he made "Fantasia" (1940), "Bambi" (1941), "Dumbo" (1942), "Cinderella" (1950) and more. He was as well the founder of Disneyland in 1955. 
Walt Disney died on December 13 1966 of cancer while working on the film "The Jungle Book." In 1971 his brother Roy O. Disney opened the Magic Kingdom in Disneyland.