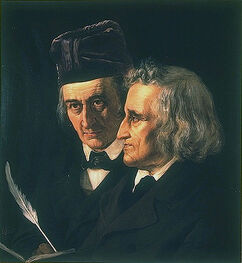 Jacob Grimm (1785-1863) and Wilhelm Grimm (1786-1859) commonly known as The Brothers Grimm where the German storytellers who were the first to ever write down and arguably create the fairy tale "Schneewwitchen " ("Snow White") which was included in their bunde "Kinder Und Hausmarchen" in 1812. The created many other classic fairy tales such as: "Little Red Riding Hood", "Sleeping Beauty", "Rumpelstilskin", and "Hansel and Gretel" 
Biography 
Edit
The Brothers Grimm where both born in a house in Steinau' 'an der Straße in Hesse, Germany in 1785 and 1786. They went to Kassel whre they studied at  the University of Marburg. They at first wrote mainly romantic stories but in 1812 "Schneewwitchen" was included in their "Children and Household Tales" bundle. Other fairy tales they wrote included: "Little Red Riding Hood", "Hansel and Gretel" and "Sleeping Beauty" and "The Wolf and The Seven Goats" which all have become a staple of culture. 
Wilhelm Grimm died three years earlieir than his brother Jacob. 
Portrayals
Edit
The children's program "Simsala Grimm" (1994-1996) centered around two freinds visiting Grimm's most famous fairytales. 
"The Brother's Grimm" (2006) was a fantasy movie made about the brothers.